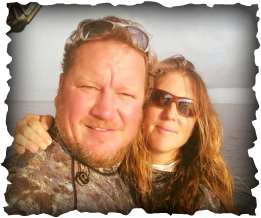 Meet Travis and Vanessa Spaulding, owners and creators of Coldwater Creek RV Park
What makes a couple wake up one morning, buy some gorgeous land and decide to share it with other nature lovers from across the US? Travis would say that it is the spirit within him that drives him to give as he has received. Vanessa would say that being the oldest of six has taught her to share and create settings where people can find a sense of family. Their good energies sparked when building ColdWater Creek RV Park. Together they created a setting of relaxation, enjoyment and respect for the natural surroundings just minutes from city life, yet country enough to enjoy the earth and the heavens above without the intrusion of man's inventions.

Their philosophy is simple - "We give you a lovely place to live in God's nature in return for your respect and enjoyment of the land and its inhabitants, human and animal alike." With that in mind, if this simplistic idea appeals to you, then you will find ColdWater Creek a special place to rest your head, your weary mind and to find peace within the tranquility of a carefully considered plan to bring people of like mind together in all of nature's glory.



Welcome to our sanctuary - created with love.
Sincerely,
Libby Bryer